Sign In
RADIO BRIDGE

™ - First Responder Information System
RADIO BRIDGE
™ brand First Responder Information System is a product that presents information rapidly to first responders.  Converging over the air systems, cellular telephones, and
The Fire Horn®
App available for download on
Google Play
and the
Apple App Store
. When your fire department is toned out over the air, 
RADIO BRIDGE™
hardware can interface with 
The Fire Horn®
 and alert your first responders via a telephone call, an app notification, and a text message.  
RADIO BRIDGE™
hardware plugged into a television at your station can show the locations of your first responders, display alerts sent via your 911 dispatch, and also display messages and announcements.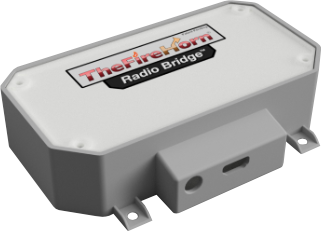 The 
RADIO BRIDGE™
hardware can notify your station leadership of Internet and power outages at it's monitoring location.  Multiple hardware units can be put into place to act as a backup, so if one monitoring site goes offline, the Over the Air Relay System will stay online.