Sign In
Features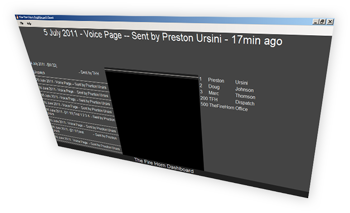 Our dashboard system allows your agency to have a birdseye view of your department and it's recent activity.
This allows members of your agency to see where they are going and what they are doing at the glance of a screen. This can be implented to work with Mobile Data Terminals with internet access, or smart phones such as an iPhone or Android Device.
Your dashboard can be viewed on any machine with internet access. We also provide an application for users of Microsoft Windows that allows for quick and easy access to your dashboard whether you're on the road or in the office. This allows The Fire Horn Dashboard to act as a Mobile Data Terminal (MDT)
RADIO BRIDGE™ Dashboard can display recent Text Messages, Calendar Events, or information sent via the Over the Air Relay Module.