Sign In
Features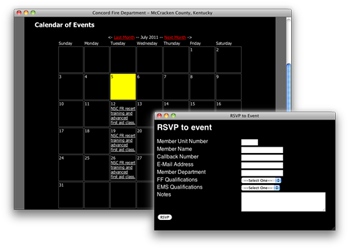 The Calendar is a powerful tool that allows specified members of your agency to keep your entire department informed.
Calendars can be displayed on a flat screen monitor at your station via our Tactical Dashboard, on mobile data terminals, smart phones, and via your webiste with our API Web Integration Kit.
Your members and members of visiting agencies can also use The Fire Horn Calendars to RSVP to events, so you can see who and how many are coming to your events and training sessions.