Sign In
Features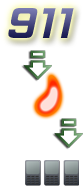 The Fire Horn is a versatile and expandable system that almost any agency can utilize. The Fire Horn is used by civilian agencies, both emergency and non-emergency, police departments, swat teams, firefighters, ems personnel, all around the United States.
With The Fire Horn, one can contact your agency with Mass Text Messaging. For long messages or members without text messaging or cell phones, Voice Paging is also available.
Using our Response Board you can have your members respond to messages and call-outs.
Mass Text Messages can be sent by The Fire Horn National Dispatch Center, allowing you to send text messages by making a phone call.

Whether it be a simple mass messaging system, integrating your Existing CAD System to work with The Fire Horn, or deploying Mobile Data Terminals in the field, we can work with you and your IT Professionals in creating a full circle solution.
The Fire Horn is available 24 / 7 / 365. Feel free to contact us at any time so that we can find a solution that is best for you.